Thanks to the growing support received this year, we hired our first employee and expanded with an analyst, research associates, and interns. We secured our first public R&D grant and won further projects such as CemSol and AgilOLab, expanding our reach. We also co-hosted a cleantech award, the Global Call 2021, together with UNIDO, UNFCCC, and UNCCD, and we ended the year presenting key results of our work at two designated events at COP26 in Glasgow.
Read our Annual Report for 2021
Panel 'The Zero-Carbon City'

Part of the Bündnis-Tag Digital from NRW Ministry of Transport

See our press release

FCA Publication at WEF

FCA analysis on high-impact R&D in cleantech at the World Economic Forum

Read our analysis

4th Future Cleantech Panel

On the technical challenges of decarbonization and the political framework needed

Read the key findings
5 Theses on Hydrogen

A collaboration with goetzpartners on competitive hydrogen

See the theses

The Cleantech Race Launch

New FCA mini-series on cleantech, first edition on hydrogen

Watch the episode

UNIDO Global Call 2021

An award ceremony for Innovative Solutions in Cleantech and Sustainable Land Management

See more
The Cleantech Race: Cement

We aired the second episode of the Cleantech Race on Cement

Read more

Collaboration on RED III

To integrate support for innovation in the upcoming legislation revision on renewables

Read more
FCA co-hosted the award ceremony of the UNIDO Global Call for Innovative Solutions in Cleantech and Sustainable Land Management with UNIDO ITPO Germany in collaboration with UNFCCC and UNCCD. The event was flanked by two panel discussions, one on breakthrough innovation and one on decarbonizing heavy industry, that allowed guests of the ceremony to discuss the most pressing climate challenges and their solutions in smaller groups before the main event.
Check out the results.
FCA presents key findings of our work on high-impact R&D in cleantech upon invitation of UN Climate Change at the UNFCCC Global Innovation Hub at COP 26.
Together with UNIDO ITPO Germany, we also gave a first insight to the results of the UNIDO Global Call 2021.
FCA analysis on Cleantech R&D
Which R&D areas must we focus on now in order to tackle the climate crisis?
Having completed a comprehensive survey on key future R&D areas in climate technology with expert participants from across the world, we are excited that the World Economic Forum has released another FCA publication.
Make sure to take a look at the results for 2021-2025, 2026-2030 and the time beyond here.
FCA shares thoughts on REDIII
FCA was asked by European lawmakers to share our perspective on how to integrate support for high-impact innovation in the process of revising upcoming legislation on renewables.
The Cleantech Race
FCA aired the first episode of The Cleantech Race on Competitive Hydrogen with Dr. Klaus Grellmann.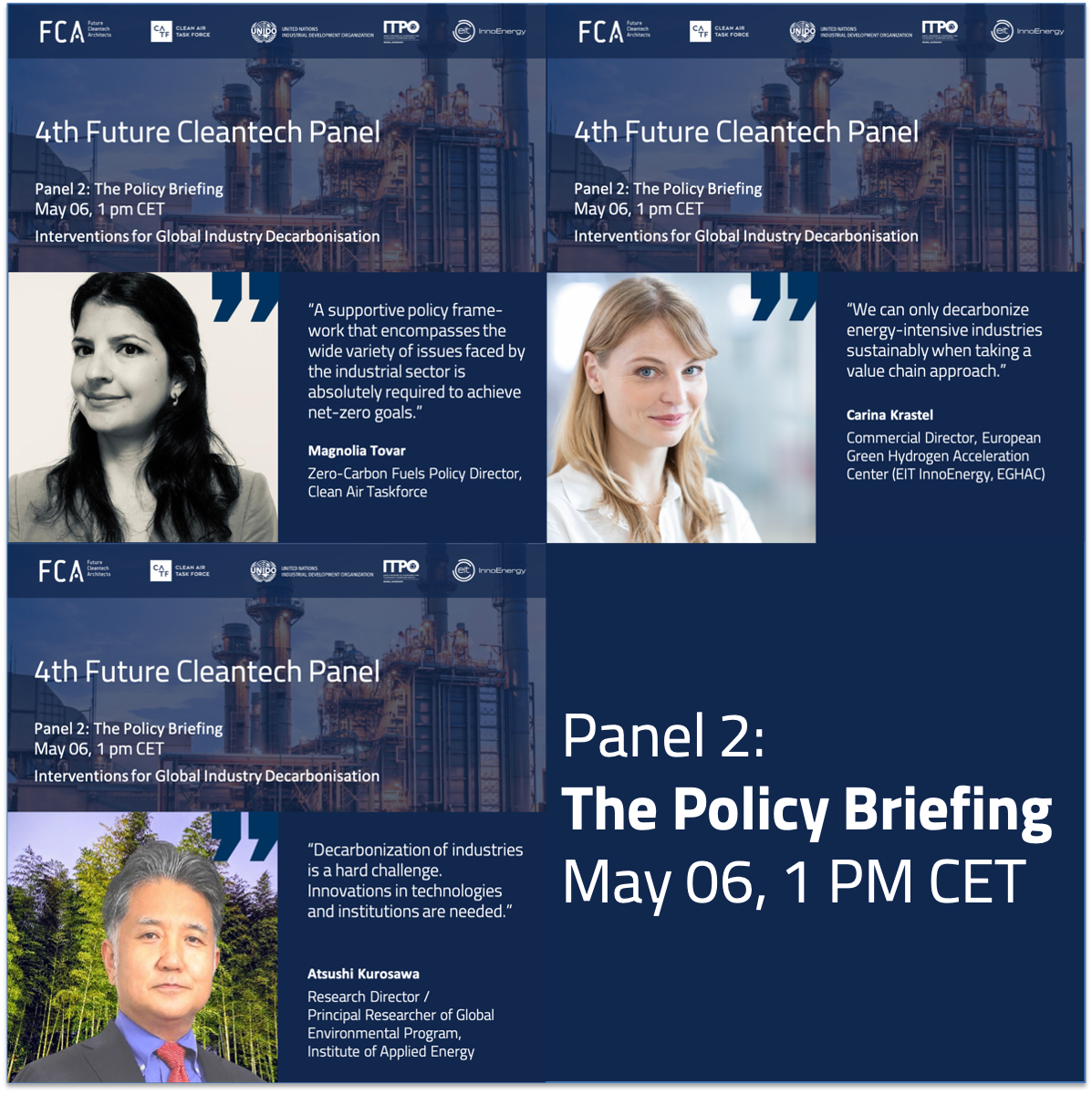 Future Cleantech Panel
The 4th Future Cleantech Panel had two sessions: one on the technical challenges of industrial decarbonization and one on the political framework to convert emissions-intensive sectors.